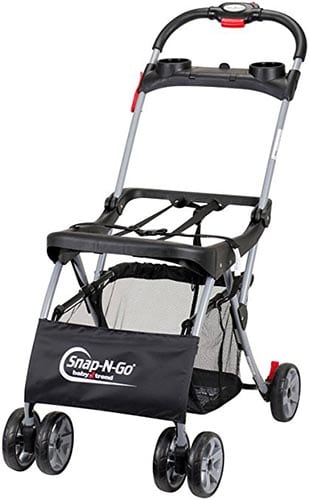 Our top pick has an appealing price already. But the Snap N Go EX? Even more so, coming in at only half the price of the Chicco KeyFit Caddy.
You get the same goodies that it needs to have. There's the parent tray with two cup holders and a storage basket as well. This lightweight stroller combo is very lightweight too and folds with one hand for hassle-free storage.
Another good thing about this is that it's compatible with all Baby Trend infant car seats and other known brands as well. In fact, you can choose from the following — Chicco Key Fit 30; Combi; Shuttle 33; Cosco; Evenflo Embrace; Graco Snugride 22 and 35,& Safe Seat 32; Maxi-Cosi Mico; Peg Perego Primo Viaggio 30; Safety 1st on Board 35.
Now that's a lot of options!
The only con?
You get what you pay for.
Unfortunately, the build and materials of the Snap N Go EX aren't top-notch. The front wheels are plastic which isn't ideal if you plan to put a heavy load on it.
Additional specs:
Weight – 14.2 lbs
Age range – from birth up to 30 lbs (depending on the infant car seat)
Sale
Baby Trend Snap N Go EX Universal Infant Car Seat Carrier
Stroller Frame that accepts infant car seats to form a Travel System
Accepts all Baby Trend Car seats
2-cup holder parent tray w/covered storage compartment, Recommended Use : Max. Weight: 45 lbs
Lightweight and easy to transport and convenient one hand fold
Large storage basket and rear wheels with brakes
SEE MORE RELATED PRODUCTS
| # | Preview | Product | Rating | Price | |
| --- | --- | --- | --- | --- | --- |
| 1 | | Evenflo Vive Travel System with Embrace, Spearmint Spree | 289 Reviews | $111.99 | Buy on Amazon |
| 2 | | Baby Trend EZ Ride 5 Travel System, Hounds Tooth | 456 Reviews | $128.59 | Buy on Amazon |
| 3 | | Graco Fastaction Fold Jogger Click Connect Baby Travel System, Gotham, One Size | 411 Reviews | $276.49 | Buy on Amazon |
| 4 | | Britax 2017 B Agile & B Safe 35 Travel System, Black | 107 Reviews | $314.99 | Buy on Amazon |
| 5 | | Safety 1st Smooth Ride Travel System with OnBoard 35 LT Infant Car Seat, Monument 2 | 318 Reviews | $143.99 | Buy on Amazon |
| 6 | | Evenflo Pivot Modular Travel System, Sandstone | 198 Reviews | $279.99 | Buy on Amazon |
| 7 | | Baby Trend Expedition Jogger Travel System, Phantom | 639 Reviews | $197.28 | Buy on Amazon |
| 8 | | Ingenuity Smart and Simple Playard - Ridgedale | 165 Reviews | $114.99 | Buy on Amazon |
| 9 | | Chicco Bravo Trio Travel System, Papyrus | 283 Reviews | $379.99 | Buy on Amazon |
| 10 | | Cosco Lift & Stroll Travel System - Car Seat and Stroller – Suitable for Children Between 4 and 22... | 19 Reviews | $119.99 | Buy on Amazon |
| 11 | | Disney Amble Quad Travel System, Garden Delight Minnie | 121 Reviews | $139.99 | Buy on Amazon |
| 12 | | Evenflo Folio3 Stroll & Jog Travel System with LiteMax 35 Infant Car Seat, Skyline | 10 Reviews | $199.99 | Buy on Amazon |
| 13 | | HaloVa Diaper Bag Multi-Function Waterproof Travel Backpack Nappy Bags for Baby Care, Large... | 2198 Reviews | $35.99 | Buy on Amazon |
| 14 | | Travel Bug Baby 2 Piece Head Support & Strap Covers for Car Seats, Strollers and Bouncers, Unicorn-... | 4 Reviews | $17.00 | Buy on Amazon |
| 15 | | Cosco Lift and Stroll Plus Travel System, Very Berry | 14 Reviews | $124.88 | Buy on Amazon |
| 16 | | Chicco Cortina CX Travel System, Iron | 84 Reviews | $299.99 | Buy on Amazon |
| 17 | | Cosco Simple Fold Travel System with Light 'N Comfy Infant Car Seat, Bright Lime | 5 Reviews | $119.46 | Buy on Amazon |
| 18 | | Graco FastAction Travel System Stroller, Bennett | 1 Reviews | $186.99 | Buy on Amazon |
| 19 | | Nursing Cover, Car Seat Canopy, Shopping Cart, High Chair, Stroller and Carseat Covers for Boys and... | 338 Reviews | $19.99 | Buy on Amazon |
| 20 | | Infant Toddler Baby Stroller Carriage - Cynebaby Compact Pram Strollers add Tray (khaki) | 39 Reviews | $239.99 | Buy on Amazon |