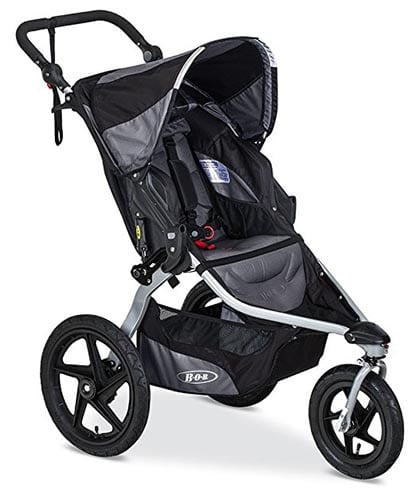 The FLEX stroller has all the features and qualities of its other brother, the Revolution SE stroller: from effortlessly gliding over rough surfaces, the spacious seat, to the large canopy.
The only noticeable difference between the two is the handlebar. The FLEX stroller comes with a handlebar that adjusts to nine different positions to suit the height of anyone pushing the stroller.
The front wheel locks and swivels, too, for easier maneuvering on rough ground.
Same with the Revolution SE, you can purchase the car seat adapter to transform it into a travel system.
Two cons I found:
One, it's a little bulky so storage can be an issue. Two, there's no cup or bottle holder.
Additional Specs
Stroller weight: 29 lbs
Age range: 0-8 weeks in an infant car seat with adapter, 8 weeks to 8 months walk only, 8 months to 5 years jogging/off-road use
BOB Revolution Flex Jogging Stroller, Black
Locking swivel-front wheel for stability when jogging and easy mobility while on the go in the city
Air-filled tires and mountain bike-style suspension system offers an ultra-smooth ride, while the adjustable handlebar creates a perfect fit for parents of all heights
No-rethread harness, one-hand near-flat recline, and 2-step fold allows for easy adjustments; ventilated, padded seat and extra-large UPF 50+ canopy ensures a cool, comfortable journey
Travel system ready: Compatible with BOB infant car seats or Britax when using the BOB Infant Car Seat Adapter (sold separately)
Fit: Birth to 75 pounds; 0 - 8 weeks with the use of an Infant Car Seat Adapter & compatible Infant Car Seat, maximum child height 44 inches. Maximum stroller dimensions 25.4 W x 43 H x 44 D inches
SEE MORE RELATED PRODUCTS
| # | Preview | Product | Rating | Price | |
| --- | --- | --- | --- | --- | --- |
| 1 | | Joovy Zoom 360 Ultralight Jogging Stroller, Black | 247 Reviews | from $179.00 | Buy on Amazon |
| 2 | | Baby Trend Expedition Jogger Stroller, Bubble Gum | 1140 Reviews | $73.40 | Buy on Amazon |
| 3 | | BOB Revolution Flex Jogging Stroller, Black | 301 Reviews | $449.99 | Buy on Amazon |
| 4 | | Baby Trend Range Jogger Stroller, Millennium | 22 Reviews | $62.41 | Buy on Amazon |
| 5 | | Graco Fastaction Fold Jogger Click Connect Baby Travel System, Gotham, One Size | 411 Reviews | $276.49 | Buy on Amazon |
| 6 | | BOB Rambler Jogging Stroller, Black | 23 Reviews | from $359.99 | Buy on Amazon |
| 7 | | Jogging Stroller | All Terrain Baby Jogger | Sport Utility | JPMA Safety Certified | J is for Jeep... | 11 Reviews | $329.99 | Buy on Amazon |
| 8 | | Schwinn Interval Jogging Stroller, Stone Blue | 47 Reviews | $124.99 | Buy on Amazon |
| 9 | | Chicco Activ3 Jogging Stroller, Energy | 17 Reviews | $299.99 | Buy on Amazon |
| 10 | | Schwinn Arrow Jogging Stroller, Nightshade | 16 Reviews | $209.99 | Buy on Amazon |
| 11 | | Costzon Baby Jogger Stroller Lightweight w/Cup Phone Holder (Black) | 12 Reviews | $119.99 | Buy on Amazon |
| 12 | | Baby Trend Xcel Jogger Stroller, Mosiac Blue | 219 Reviews | $76.91 | Buy on Amazon |
| 13 | | Baby Trend Expedition Double Jogger, Elixer | 221 Reviews | $174.99 | Buy on Amazon |
| 14 | | Baby Trend Manta Snap Gear Jogger Stroller, Vega | 25 Reviews | $169.99 | Buy on Amazon |
| 15 | | Thule Urban Glide 2.0 Jogging Stroller (Dark Shadow/ Silver Frame) | 16 Reviews | $449.95 | Buy on Amazon |
| 16 | | J is for Jeep Brand Adventure All-Terrain Jogging Stroller | 70 Reviews | $127.99 | Buy on Amazon |
| 17 | | Clevr Green Collapsible 2 Seats 2-in-1 Double Bicycle Trailer Baby Bike Jogger/Stroller Jogging... | 157 Reviews | $179.99 | Buy on Amazon |
| 18 | | Thule Urban Glide - Jogging Stroller- Dark Shadow | 195 Reviews | $429.95 | Buy on Amazon |
| 19 | | Evenflo Victory Jogging Stroller Tucson, Tucson | 12 Reviews | $119.99 | Buy on Amazon |
| 20 | | BOB Revolution PRO Jogging Stroller, Black | 111 Reviews | $499.99 | Buy on Amazon |