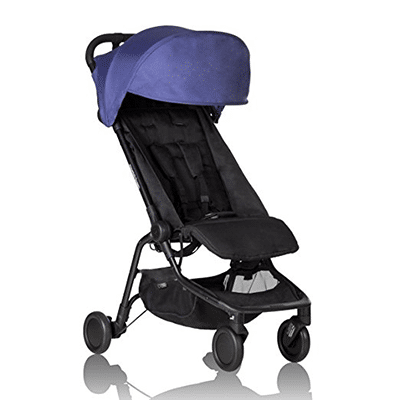 The Nano is a great partner for parents who are always on the go. It folds and fits into any carry-on compartment, while the shoulder straps make for hassle-free and hands-free carrying. It also has an attached universal car seat adapter which is compatible with most infant car seat brands.
The plus? It has a really cool feature once your kid is a lot older. You can connect the
Freerider Stroller Board (separate purchase), which is a scooter that kids can push on their own.
Unfortunately, it makes use of both your hands to fold. It can be a con to some, but again, it's up to you to decide.
So there you have it. These are some of the lightweight strollers that most parents buy and it should serve as a guide when buying your own, especially for first-timers.
Depending on what you need, some of the features of these strollers may not appeal much to you. However, remember that at the end of the day, what's most important is the security and comfort of your baby.
Mountain Buggy Nano Stroller, Nautical
Infant car seat ready ; no need to purchase additional adapters and now has a soft shell cocoon carrycot available (sold separately) for newborns
New, narrower compact size at just Dimension - 12 x 22 x 20 inches (Folded) with 44 lb. weight capacity and suitable for children up to 4 years
Easy two-step, compact fold meets regulations for airline carryon luggage
Travel bag and shoulder strap included.New features for 2016 model include: 30% deeper recline, 1"narrower width, greater sunhood coverage, solid flip-out visor, ultra slim line wheels and sun mesh extension with a fabric overlay (for winter coverage) when seat is reclined
Maximum load:20kg / 44lb
SEE MORE RELATED PRODUCTS