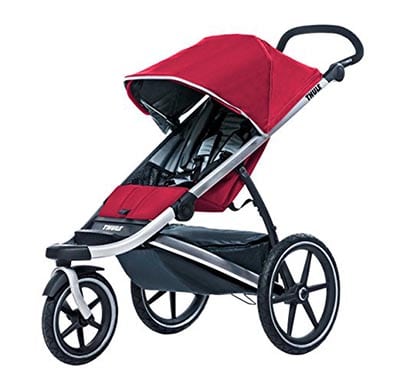 The Thule Urban Glide is one of the lightest jogging models around and the lightest in our list.
You may think that a lightweight stroller uses less durable materials than heavier models. Perhaps that's true in other cases, but not with this jogging stroller.
The Thule Urban Glide is sturdy enough to easily travel through grass, bumpy sidewalks, and dirt paths.
You also get a front wheel that swivels and locks into place when you're jogging. The padded seat comes with a vented top that reclines to a near-flat position, making it ideal for baby naps.
And you can get the car seat adapter and turn the Thule Urban Glide into a complete travel system.
The only disadvantage I found:
While the undercarriage storage basket has a weatherproof covering, getting things in and out of it can sometimes be difficult.
Additional Specs
Stroller weight: 23 lbs
Age range: from birth with an infant car seat or up to 75 lbs. (approximately 5 years old)
Thule Urban Glide - Jogging Stroller- Mars
Swivel front wheel for easy maneuverability, locks into place for jogging
Ergonomic handlebar with a range of heights for parent's comfort.Sitting height 21 in.The pads are water repellant and removable for washing. Door pass through 25.5 inches
Turn your Thule Urban Glide into a travel system with the car seat adapter (sold separately, see car seat compatibility chart)
Padded seat with vented top reclines to a near flat position for on-the-go naps. Weight capacity: 75 pounds
One-handed compact fold for storing and transporting
SEE MORE RELATED PRODUCTS
| # | Preview | Product | Rating | Price | |
| --- | --- | --- | --- | --- | --- |
| 1 | | Joovy Zoom 360 Ultralight Jogging Stroller, Black | 247 Reviews | from $179.00 | Buy on Amazon |
| 2 | | Baby Trend Expedition Jogger Stroller, Bubble Gum | 1140 Reviews | $73.40 | Buy on Amazon |
| 3 | | BOB Revolution Flex Jogging Stroller, Black | 301 Reviews | $449.99 | Buy on Amazon |
| 4 | | Baby Trend Range Jogger Stroller, Millennium | 22 Reviews | $62.41 | Buy on Amazon |
| 5 | | Graco Fastaction Fold Jogger Click Connect Baby Travel System, Gotham, One Size | 411 Reviews | $276.49 | Buy on Amazon |
| 6 | | BOB Rambler Jogging Stroller, Black | 23 Reviews | from $359.99 | Buy on Amazon |
| 7 | | Jogging Stroller | All Terrain Baby Jogger | Sport Utility | JPMA Safety Certified | J is for Jeep... | 11 Reviews | $329.99 | Buy on Amazon |
| 8 | | Schwinn Interval Jogging Stroller, Stone Blue | 47 Reviews | $124.99 | Buy on Amazon |
| 9 | | Chicco Activ3 Jogging Stroller, Energy | 17 Reviews | $299.99 | Buy on Amazon |
| 10 | | Schwinn Arrow Jogging Stroller, Nightshade | 16 Reviews | $209.99 | Buy on Amazon |
| 11 | | Costzon Baby Jogger Stroller Lightweight w/Cup Phone Holder (Black) | 12 Reviews | $119.99 | Buy on Amazon |
| 12 | | Baby Trend Xcel Jogger Stroller, Mosiac Blue | 219 Reviews | $76.91 | Buy on Amazon |
| 13 | | Baby Trend Expedition Double Jogger, Elixer | 221 Reviews | $174.99 | Buy on Amazon |
| 14 | | Baby Trend Manta Snap Gear Jogger Stroller, Vega | 25 Reviews | $169.99 | Buy on Amazon |
| 15 | | Thule Urban Glide 2.0 Jogging Stroller (Dark Shadow/ Silver Frame) | 16 Reviews | $449.95 | Buy on Amazon |
| 16 | | J is for Jeep Brand Adventure All-Terrain Jogging Stroller | 70 Reviews | $127.99 | Buy on Amazon |
| 17 | | Clevr Green Collapsible 2 Seats 2-in-1 Double Bicycle Trailer Baby Bike Jogger/Stroller Jogging... | 157 Reviews | $179.99 | Buy on Amazon |
| 18 | | Thule Urban Glide - Jogging Stroller- Dark Shadow | 195 Reviews | $429.95 | Buy on Amazon |
| 19 | | Evenflo Victory Jogging Stroller Tucson, Tucson | 12 Reviews | $119.99 | Buy on Amazon |
| 20 | | BOB Revolution PRO Jogging Stroller, Black | 111 Reviews | $499.99 | Buy on Amazon |